Simplifying Golf
Caddy Slacks are designed to make playing golf a more pleasurable experience by keeping you out of your pockets as much as possible. There are 6 unique features of Caddy Slacks that you won't find on any other pair of golf pants or shorts that give you quick access to the tools use most on every hole while still keeping the characteristics of sharp looking golf pants. They are extremely comfortable, made from a high tech fabric that is breathable, quick drying, and 40SPF. Choosing the fabric was one of the hardest parts of creating Caddy Slacks as I wanted them to drape nicely, be extremely comfortable and look sharp so you can go right from the golf course to the club house, restaurant or for a night out on the town.
Caddy Slack Features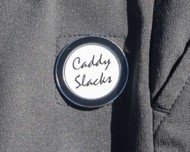 Ball Marker: Stop digging around in your pocket, wasting time on the green, trying to find your ball marker among your keys, tees, divot repair tool, lint and whatever else is in there. With Caddy Slacks, your ball marker is conveniently located on the outside, magnetically connected, just below your back right pocket. It is easy to slide on and off and is interchangeable with your favorite magnetic mark. The magnet, located inside the pants, is removable through a button hole for washing so your pant won't stick to the inside of the washer and dryer.
---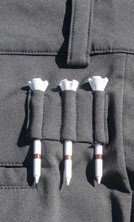 Tee Caddy: Again, designed to keep you out of your pocket, the tee caddy is located on the right hand side of the pants between the back and front pockets for easy access. The days of finding a tee in your pocket are over, simply slide the tee in and out of the tee caddy and you're done. With that advent of plastic tees, 3 is all your will ever need.
---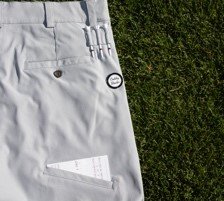 Score Card Pocket: If you walk or even ride and keep your score card in your back pocket, not only does it compete for space with your wallet and glove, you have probably experienced SBS or what I call, Sweaty Butt Syndrome. On those hot days in the summer where it is impossible to keep cool, by the time you get to the 19th hole, the scores you wrote down on the front 9 have smeared off and are hard read, not to mention a soggy score card is pretty nasty. The score card pocket, located just below the back pocket on the right leg, keeps the card cool and crisp. The slanted design makes it easy to slide the card in and out for easy access and fits all standard score cards.
---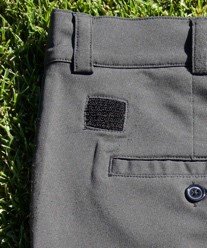 Glove Holder: For years and years, it has been standard practice to take your glove off for putting, fold it up and place it in your back pocket. For me personally, I've always found this to be a pain and thought there had to be a better place for the glove. A golf glove is made to be sticky, so getting it in and out of your back pocket, especially on hot and humid days, can be difficult. You struggle to get it in your pocket, then when you pull it out, the pocket sometimes comes with it, so then you have to tuck that back in. The glove holder on Caddy Slacks is located on the left hand side between the front and rear pockets. Simply take your glove off and stick it on the patch. Not only is this much easier, but it also helps to keep it dry, once you try it, you'll wonder where it has been all your life. The Velcro is the soft side, so no worries about anything sticking to it when you wash it.
---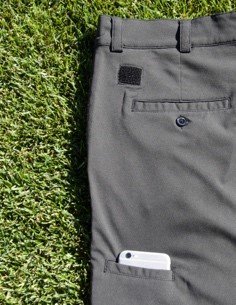 Cell Phone Pocket: I know what you are thinking, you should not have your cell phone on you when you play golf, and I agree. The cell phone pocket is designed for those of us who use one of the many golf apps, such as Golf Logix, to get yardages, keep score, etc. Located on the left side, below the rear pocket on the leg, it is sleek, easily accessible and designed so you don't even know it is there. Once you try it, you'll wonder why all pants and shorts don't have it, a great alternative to the bulky, unflattering, cumbersome, cell phone belt holder.
---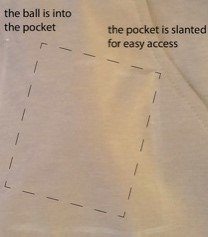 Ball Pocket: If you play golf and ride in a cart, you are probably familiar with the black markings that appear on your right leg that are impossible to get out. This phenomenon occurs when you put your ball in your pocket, slide into drive and your ball hits the steering wheel, or if you are on the passenger side, it hits the rail. The ball pocket is designed to keep the ball out of the bottom of your pocket, so you don't get those ugly black marks on your nice golf pants that despite your best efforts, will be there forever.
---
Caddy Slacks - timeless design with 6 unique features to simplify golf by providing easy access to the tools you use most. High tech fabric and a comfortable fit, once you wear them everything else just falls short.